Product Description
12m Micro Single Point Measure LiDAR Module
Product Description:
IT02S, is JRT new product, which is a single-point LiDAR sensor, also called tof distance sensor. With a micro size of 46x17x7mm, customers can widely use in many laser measurement solutions. the lidar distance sensor can measure 12m short-range. It's great for Unmanned Aerial Systems. If you need us send you data sheet and spec for this products, offering sample as well, pls tell us, thank you.
Product Characteristics:
Measuring Range: 12m, good for outdoor using
Stronger: even measuring black surface, can be up to 8m
TOF protocol: high frequency, 200hz best
Temperature:-10~+50℃
Size: very small of 46x17x7mm
Interface: UART
Performance Parameter
:
Model
IT02S-65-A
Measuring Range
0.1-12m @90% reflectivity
Frequency
100Hz/200Hz/300Hz
Accuracy
2cm @90% reflectivity
Absolute Accuracy
90% reflectivity:5cm @ within 7m
2% @7-15m

Blind Area
10cm
Resolution
1cm
Light
650nm, <1mw,red,class 2
100Hz
780nm can be customized
Resistance to Light
10000 LUX
Operating Voltage
DC +3.3V,
Working range: +2.7V~+3.6V
Operating Current(@100Hz)
55mA

(2)

Power(@100Hz)
181mw

(2)

Operating Temperature
0-40 ℃(regular)-10-+50 ℃(Higher and lower)

(3)

Communication interface
UART,115200bps(default)
Serial level
TTL 3.3V
Volume
46*17*7mm
Weight
10g
Pictures: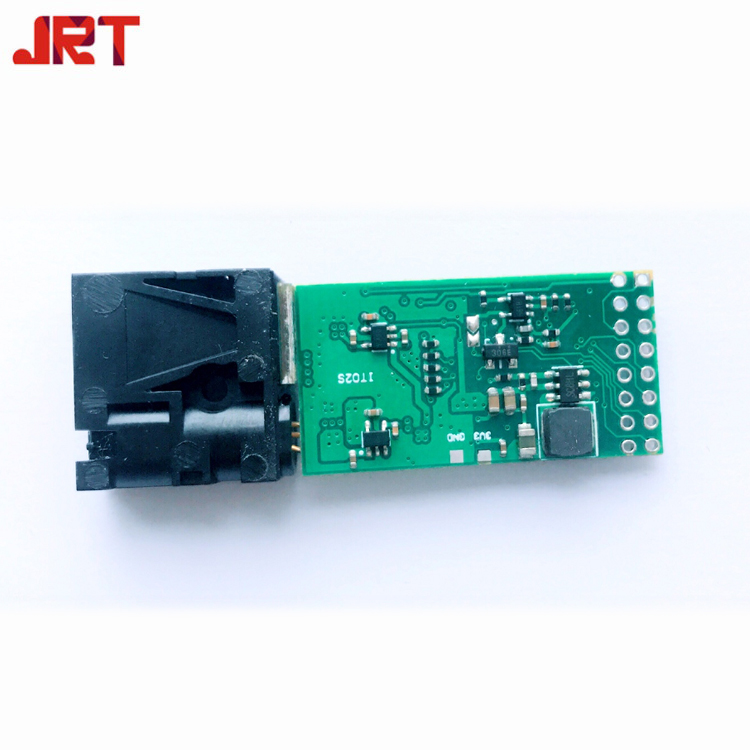 Chengdu JRT Main Ranging Modules: laser distance meter module, industrial laser distance sensor, mini TOF ranging sensor.