Product Description
JRT Medium-sized arduino laser distance sensor 60m
JRT Medium-sized arduino laser distance sensor 60m the size of 45*25*12mm is one of the Medium-sized module products for our. Its longest measuring distance is 60m, which is farther than the conventional measuring range. Because the conventional measuring range is 0.03~40m but this is 0.03~60m. However, the technical parameters of the JRT medium-sized Arduino laser range sensor, such as size, measurement accuracy and weight, are basically unchanged.
So if you are interested in our new products, we look forward to contacting you. We have been in this laser line for over 16 years, with a strong R&D ability through unremitting efforts, we are now a leading supplier of laser distance meter modules in China. welcome to consult to negotiate.
Product Specifications: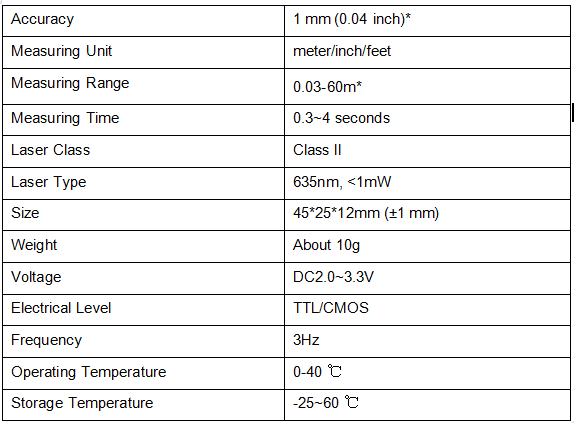 1. Under bad measure condition, like environment with strong light or the diffuse reflectance of measuring point over-high or low, the accuracy would have bigger amount of error: ±1 mm+40PPM.
2. Under strong light or bad diffuse reflectance of target, please use a reflector.
3.60m can be customized
4. Voltage can be changed by power converter LDO
5. Frequency would be affected by environment
6.Operating temperature -10~50 can be customized.