Product Description
Long Range Outdoor Laser Distance Meter Module 150m
The Long Range Outdoor Laser Distance Meter Module 150m measuring accuracy is ±1 mm (0.04 inch) and the measuring range is 0.03~150m. It is your good choice for making laser mesuring tools. This model size is 72*40*18mm and the measuring distance up to 150m, so that's why many designers choosing for our products. Customers usually would like to test first using JRT meter's laser meter sensor with display screen, button.
We manufactured laser distance meter module for 15 years, with a strong R&D ability, Voice, Bluetooth, angle measuring, beep, and any other functions can be customized. If you have any other requirements. welcome to disscuss with us. Looking forward to your contact ours.
Product Specifications
:
| | |
| --- | --- |
| Accuracy | ±3 mm |
| Measuring Unit | meter/inch/feet |
| Measuring Range (without Reflection) | 0.03-150m |
| Measuring Time | 0.125~4 seconds |
| Laser Class | Class II |
| Laser Type | 635nm, <1mW |
| Size | 72*40*18mm (±1 mm) |
| Weight | About 25g |
| Voltage | DC2.0~3.3V |
| Electrical Level | TTL/CMOS |
| Frequency | 8Hz |
| Operating Temperature | 0-40 ℃ (32-104 ℉ ) |
| Storage Temperature | -25~60 ℃ (-13~140 ℉) |
Note:
1. Under bad measure condition, like environment with strong light or the diffuse reflectance of measuring point over-high or low, the accuracy would have bigger amount of error: ±3 mm+40PPM.
2. Under strong light or bad diffuse reflectance of target, please use a reflection board
3. Operating temperature -10 ℃~40 ℃ can be customized.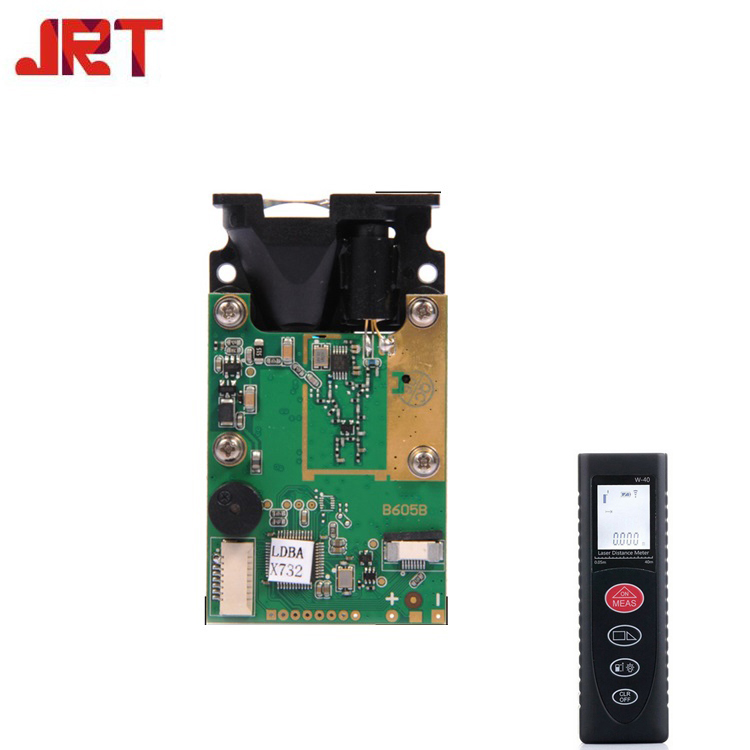 Why Laser Distance Meter?
1. Convenient. Can be carried in a small pocket, or in a tool box. The smallest one is just half size of a phone.
2. High Accuracy. The accuracy can achieve ±1mm.
3. Multiple Functional Designs. Our laser distance meter can be used to measure distance, area, volume, angle, and Pythagorean measurement. Also can add function: Bluetooth, USB charge, voice, touch screen etc.
4. Long Range. Compared with traditional measure tapes, our laser distance meters can have a much longer range, up to 200M.
5. Easy to Use. It is very easy to learn how to use a laser distance meter, it can measure distance with pressing a single button.
6. Safety. Using a laser distance meter to measure is much safer than using a measure tape, for users do not need to climb up and down.