Product Description
Smart Handheld Mini Laser Distance Meter Accuracy
Product overview
D30L is our new product with high accuracy up to +-1.5mm. Engineers can measure with one hand, it's very convenient, right? This model lasre measure tools can measure distance,area,volume and pythagorean, and can switch to meter/feet/inch mode as you like. It's a very smart Laser Distance Meter, which can measure faster, easier, and more effectively! The D30 with our mini module U81 in it achieved the smallest size mini laser distance meter in the world, which outlook is the same as a key,quite portable and cute. Beside this type is lithium power supply with USB, it 's quite easy to charge. As a OEM manufacture, customers can chose to make their special diy digital laser distance meter .Mini Diy Digital USB Laser Distance Meter USB laser distance meter Mini laser distance meter Diy Digital laser distance meter.
Performance Parameter
Model Number: D30L
Functions: Distance/length/height/area/volume/Pythagorean measure
Accuracy ±1.5 mm
Measuring Unit: meter/inch/feet
Measuring Range (without Reflection): 0.03-30m
Measuring Time: 0.125~4 seconds
Laser Class: Class II
Laser Type: 620nm-690nm, <1mW
Size of laser tool: 110*35*22mm
Size(Module inside): 41x17x7mm
Weight: About 25g
Operating Temperature 0-40 ℃ (32-104 ℉ )
Storage Temperature -25~60 ℃ (-13~140 ℉)

Pictures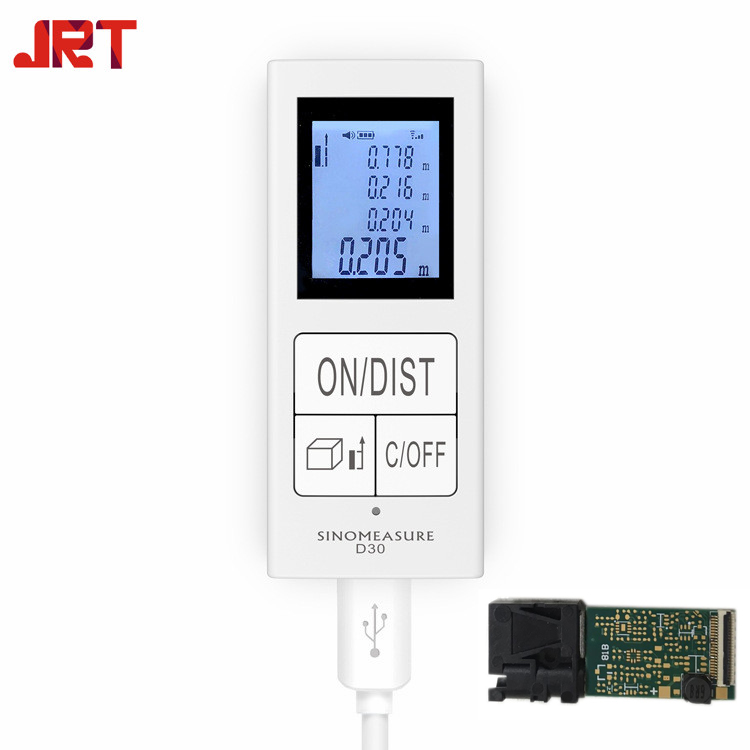 Chengdu JRT Main Ranging Modules: laser distance meter module, industrial laser distance sensor, mini TOF ranging sensor.